Human Again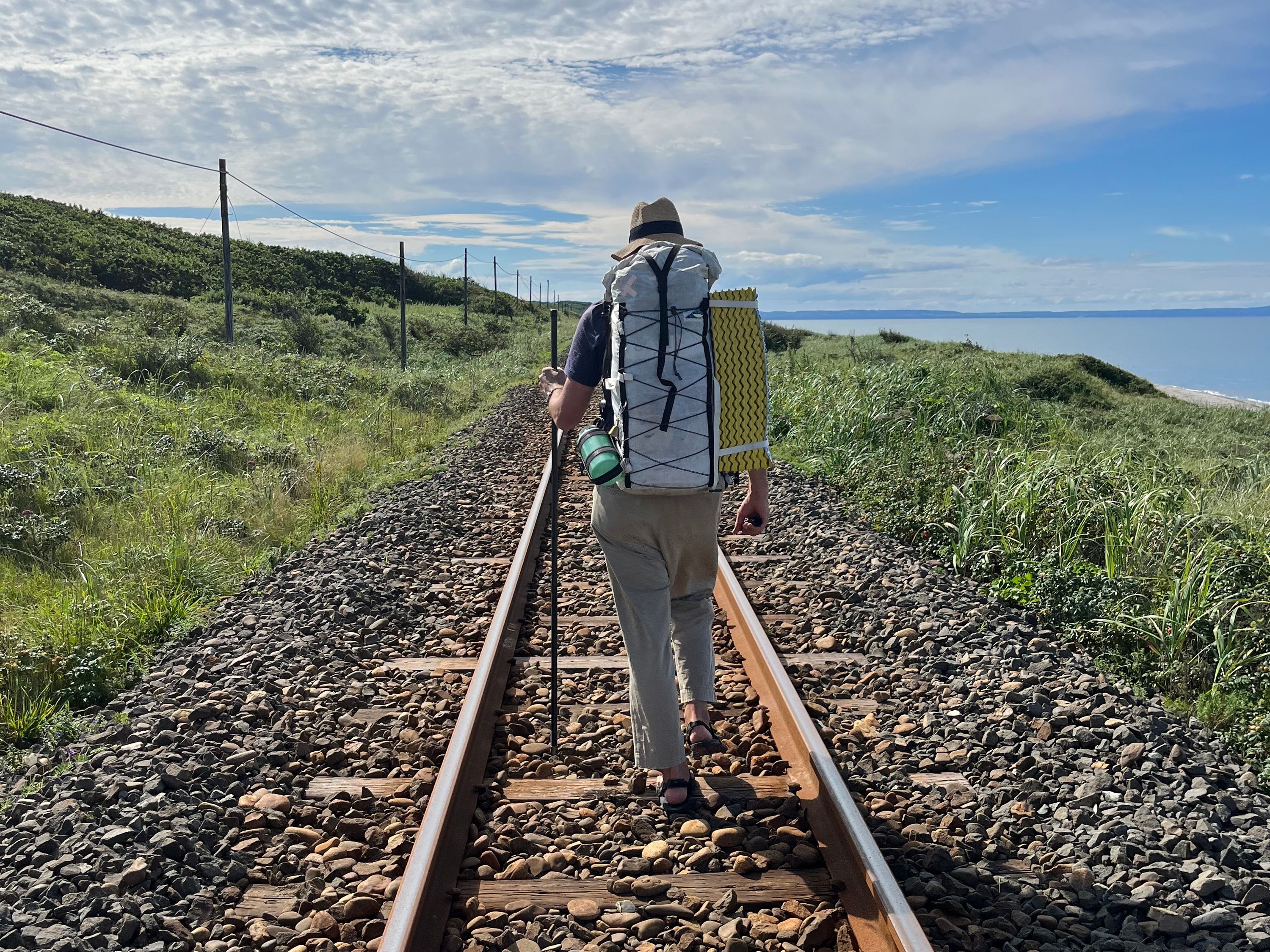 📷 On the 8th day of my walk. Photo by Gabor Orosz.
Human Again is a series of three longer dispatches I wrote on a 640-kilometer walk across Hokkaido, the northernmost of Japan's four main islands, in August and September 2022.
It continues the journey described in These Walking Dreams, the visual field diary I kept on a 4,300-kilometer walk across all of Japan.
That walk finished in Nemuro, near the easternmost point of the Japanese mainland, on August 21, 2017. This walk continues from the same spot on August 22, 2022.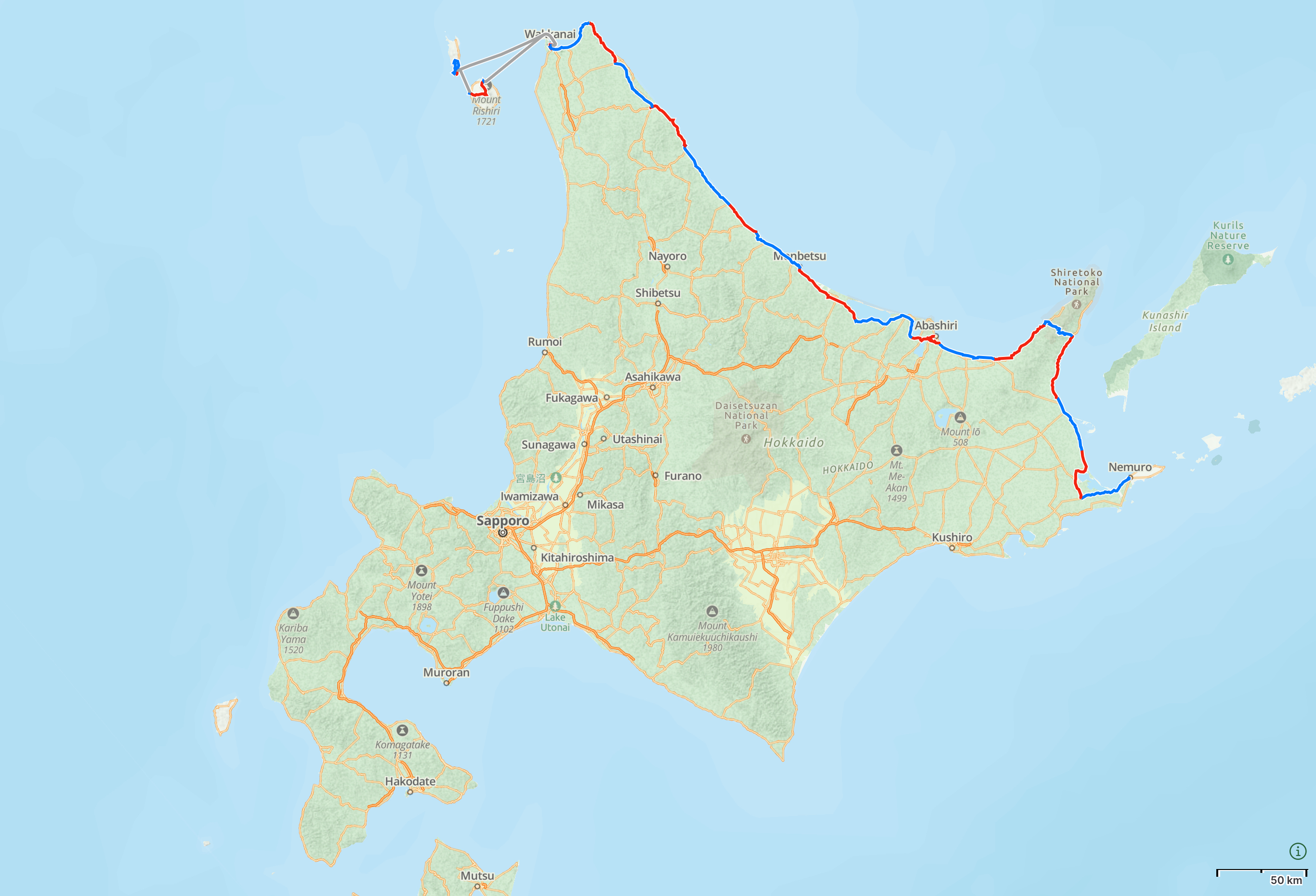 🗺 My route across Hokkaido and two of its outlying islands, from east to north
Except for three ferry crossings, marked in grey on the map above, I walked every step of the way.
My brother Gabor Orosz, who had walked with me in 2017 on the Hokkaido part of my journey, joined me this time, too. We left Nemuro from the same spot where we had concluded our 2017 trip, and walked together to Abashiri, on the shore of the Sea of Okhotsk. From there I walked on alone to Wakkanai, the northernmost city on the Japanese mainland, then traveled to two outlying islands, Rebun and Rishiri.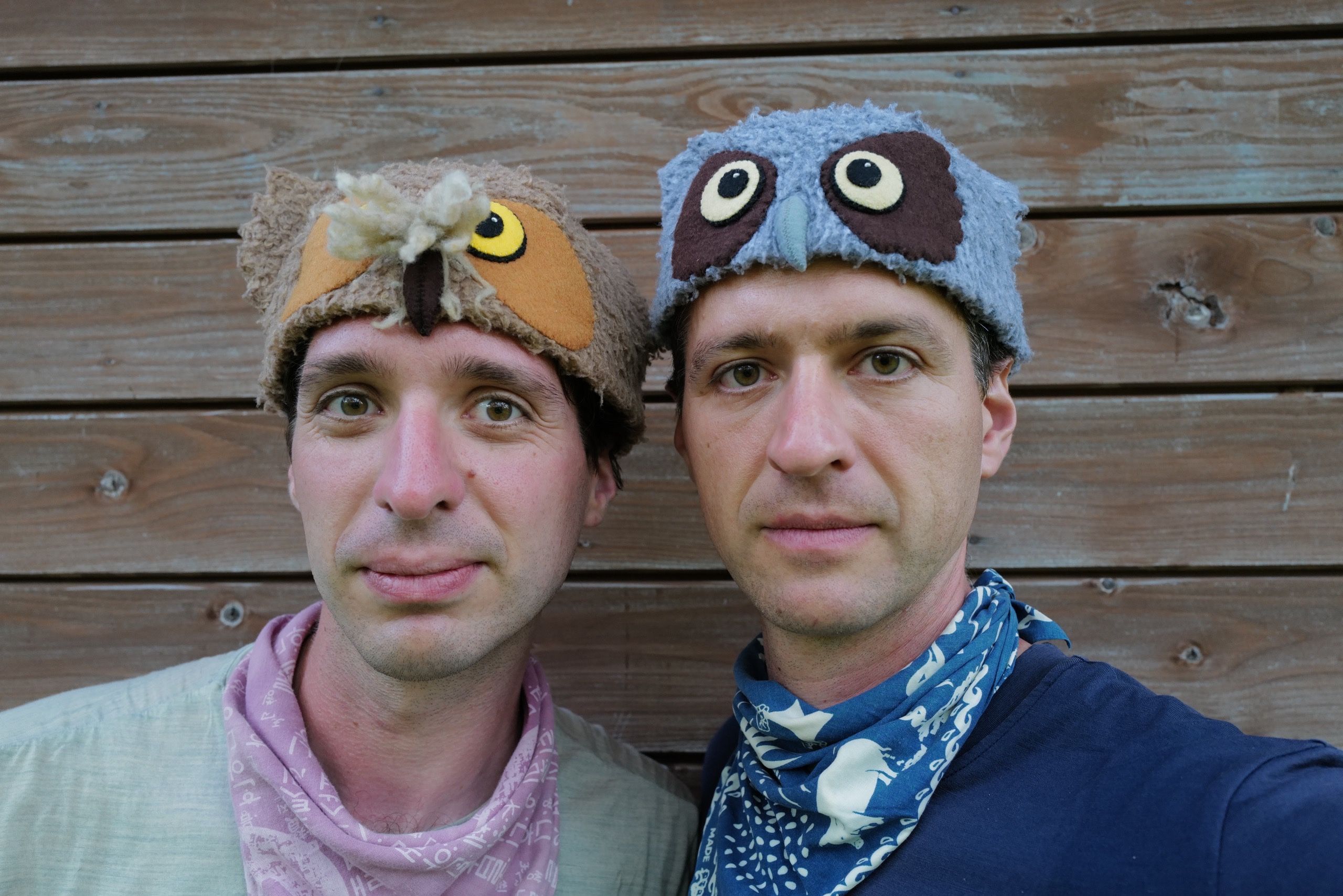 📷 With Gabor (left), on the first day of our walk from Nemuro to Abashiri
Index
My plan was to walk all the way back to Kagoshima, but a foot injury prevented me from doing so. I finished my walk upon returning to Wakkanai from Rishiri, on September 14.
Update: A year and a day later, on September 15, 2023, I left Wakkanai, Hokkaido, to continue my walk. My goal is to reach Cape Irizaki on Yonaguni, Okinawa, the westernmost point of Japan. You can follow my journey here.
Notes and acknowledgments
Joan M. Anderson in Tokyo served as the most wonderful support crew for the expedition.
Annikki Eigo at the Embassy of Japan in Estonia and Julian Claresby in Amakusa, Japan, provided invaluable assistance in getting a visa, without which I could not have entered Japan in the summer of 2022 because of Covid-related border restrictions.
Japanese words, geographical locations, and personal names are transcribed into English using the Modified Hepburn romanization. Japanese names are written in the Japanese order, the family name first and the given name second. With the exception of the names of Tokyo, Osaka, Hokkaido, Honshu, and Kyushu, spelled in the international style, long vowels are marked with macrons (ō, ū).
Geographical names are based on data from Google Maps, OpenStreetMap, the Geospatial Information Authority of Japan, and other sources. Google Translate and Renzo Japanese were used to clarify transliterations.
Maps are plotted in Gaia GPS, using data from OpenStreetMap, and displayed on Gaia GPS's Gaia Topo map.
Special thanks to Natalie Kallay, my wife, who supported this silliness in a most difficult time of her life.